Palamino Plastics has a range of innovative and product solutions for a wide range of industries.
We apply the same principals to our products as we do for all our customers, providing top quality products using only the best sourced materials.  We are also proud to advise that all our products are 100% Australian.
We manufacture and assembly in-house, whilst sourcing materials from within our local area.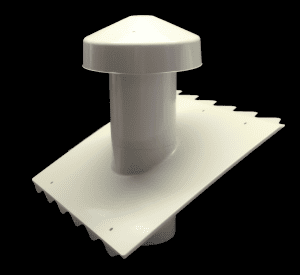 A high impact Flue and Roof Cowl used in the construction/building industry typically for the ventilation of moist air from bathrooms, laundry's and domestic kitchens but can also be used for relief air applications. It is aesthetically pleasing, durable, long lasting and very easy to install. The performance range suits domestic ventilation applications.
Features
Constructed from high impact UV stable Polymer which will allow it to be used in extreme climates and harsh conditions without perishing.
The angle of the flashing is generic to standard building practices.
For corrugated roofs, the fluted flanges and side edging of the over flashing are specifically designed to hug the corrugation to prevent leaves, mulch and debris getting into the roof spaces.
For tiled roofs, the flue/roof plate comes with a lead flashing which can be tapped to the form of the tiles.
The Flue and Roof Cowl comes fully sealed.
Matched to the full range of colours from Colorbond.
Save labour on trimming in the flashing and/or reduce the amount of silicone used to seal the flashing to the roof. The finish of the joining will also be dramatically improved.
Ezy-Fix Clip Shadecloth & Fabric Fastener
Ezy-Fix Clip™ is the D.I.Y. and commercial user's choice to professionally fasten a range of fabrics like:
• Shade cloth          • Plastic film          • Canvas/linen          • Chicken-mesh (<1mm)          • Insect-screen etc
Ezy-Fix Clip™ can be fastened to a range of surfaces, including:
• Cement/brick/rendered walls          • Plastic          • Wood          • Metal surfaces
Ezy-Fix Clip™ is conveniently packed for a range of domestic and commercial uses and all packs come with instructions.
Ezy-Fix Clip™ comes in three different colours: Beige, Green, Black
Enquiries and Pricing
Visit www.ezyfixclip.com.au for more details
The BSEEN Foldup L-Plate is designed for use by learner drivers. A 3 dimensional fold up L-Plate that affixes to the steel roof of a vehicle by a magnetic base.
• Meets all relevant Australian road standards
• Highly visible and can be clearly seen from front and rear of the vehicle
• Completely stable and non slip with successful road testing on vehicles traveling up to 110km/h
• Folds easy for storage
Enquiries and Pricing
Visit www.bseenlplates.com for more details.
Keyhole plugs for Telecommunications, Communications, Electrical pit lids.
Designed to prevent the insertion of materials including debris, needle sharps and shoe heels into footpath and roadway applications.
Dimensions: 31.8mm mounting hole diameter x 31mm head diameter x 11.5mm overall height
Material: Nylon
For enquiries and prices please contact us.
Cap over the threads of bolts protecting them from grime, water/rust, dust etc.
• No fuss, no time wasted trying to break, sever or oxy-fuel the bolts off
• Provides protection from sharp edges protruding
For enquiries and prices please contact us.
Catch your crayfish with ease with our plastic Craypot Escape Gaps
For enquiries and prices please contact us.
Recreational Paddle Blades
Our sleek paddle is designed to glide through the water for easy use.
• Made from a high impact plastic and UV resistant
• Shafts come in 28mm and 32mm diameter
• Insert with company name can be arranged
For enquiries and prices please contact us.